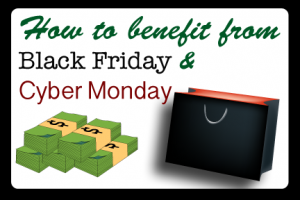 Almost everyone has heard of Black Friday, but Cyber Monday is a new trend that is starting to take over. Cyber Monday is the Monday following Black Friday (the Friday following Thanksgiving). The term started in 2005 to persuade people to shop online as opposed to in stores. ComScore reported in 2010 that consumers spent $1.028 Billion online on Cyber Monday, making it the highest spending day of that year! Amazon.com also reported that in 2011 they sold 157 items per second! With all of this in mind, it is hard to ignore.
Not partaking in either one of these special days is like being the one house on the street that doesn't give out candy during trick-or-treat. It's perfectly fine and your choice to do so, but think of all the potential customers that are going to everywhere else that is participating.
Here are a few ways to make the most out to this holiday shopping season:
For Companies That Sell Products Online:
•Offer special promotions for people that are following you on Facebook and Twitter
•Use promotion codes that can be sent to phones
•Keep in mind customers comparing prices is easier online
•Make sure that in your url you have (https) so customers know that your site is secure to shop on
For Companies That Don't Sell Products Online:
•Still offer deals, but make sure to put "in stores only"
•Reward people that visit your website, Facebook, and Twitter by offering them special promotions upon buying
•If you aren't in retail at all, then make links to relevant companies your customers would want (it helps build your relationship with them, and they are already searching for this information) 
Just keep in mind that the search engines are going to be working overtime during this season, so take advantage of it! If you are interested in $100 in Google Adwords to be found easier click here .