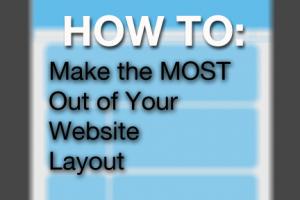 Have you ever been on a webpage and not know where to go? That is because some companies focus too much on grabbing your attention that they forget the golden rule of: less is more. You don't want to scare your customers away before they find out how awesome you are! Here are some things to pay attention to when looking at the layout of your website.
Placement and organization. You want to make sure that the important parts of your website are towards the top and the middle, so no matter what size browser people are viewing you from they see the important information first. This special rectangle if your potential customer's first impression of you, so do just that– impress them! You want a wow factor in this area or some type of graphical display of your company to interest people to stay on your site.
Navigation. This is usually the deciding factor of how many pages people look at. If your navigation is confusing or hard to find, it will make it harder for people to access more than one page on your site. Have clearly defined navigation on the top or side of your site; heck, maybe even put a site map some where on your site.
Call to action. Are people just coming to your site to look around and then leave? I would hope that's not your goal. You want people to do something, may it be sign up for your newsletter, follow you on Facebook, Twitter, etc., contact you, fill out a form, etc. Have a clear call to action on your site to be able to interact with your website visitors.
Mobile and more. Always, always, always think about the different ways people are accessing your website! I can not stress this enough! You could be losing so many potential customers if you do not have a mobile friendly website. Far too many people are searching and viewing websites on their phone today that you should be checking on mobile. If you have a very complicated website, you might want to create a different version for mobile users.