Have you ever looked at your company website and think: something is missing? There are a few essential things that makes the difference between a good website and a bad one. This checklist is designed to send you in the right direction.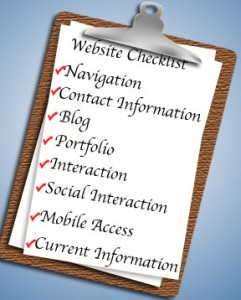 Navigation 
Do your customers need a compass to navigate through your site? If so, that's not something to be proud of. A good website should have clear and concise menus, an intuitive design and a site map for customers to navigate through. The last thing you want is to lose business because someone was frustrated that they couldn't find what they were looking for.
Contact Information
Do you have contact information listed on your site? Really that shouldn't even be a question, because the answer should be –YES! You want to make it easy for customers to interact with you online so it is crucial that you have contact information. Including a link to your contact information in your navigation is an excellent idea. There are several ways to do this, so use the one you are most comfortable with. You can have your address, email and a phone number in your contact section, or have a form that people can fill out for more information.
Blog
Every good website needs a blog. It would be like having a peanut butter and jelly sandwich without jelly. A blog is a tool that will ultimately help in increasing traffic to your website. It will also aid in establishing and maintaining a relationship with your audience.
Portfolio 
This is a fantastic place to showcase the work you've done. Potential customers want to see what you are cable of doing. It is also a great place to display testimonials of people you have already worked with. You can tell a potential customer how great your company is until you are blue in the face, but it will be much more meaningful coming from someone you have already worked with.
Interaction
The whole point of having a website is to have people look at it, with the hopes of gaining their business. What better way to do this than through interaction? Have a way for people to comment on your site, fill out forms,share something that you posted, or like you on Facebook or follow you on Twitter…etc. There should always be a way that people can become more involved with your company to help strengthen your relationships.
Social Interaction
Regardless if you are on two or five different social platforms, they should still be displayed on your website.
Mobile Access
With technology taking over people's fingertips, it is best to have a mobile version available. More and more people will be accessing your site via smartphones and tablets, and things will function differently on them. You want to make sure that your website is still viewable on all devices. If you don't have a mobile website yet, thats okay but at least put it into your plan for the near future.
Current Information
Nothing on your website is set in stone. Therefore, you should constantly be updating your site to make sure it is current. Have any of your product or services changed? Do you have any new clients or customers? Showcase a new project you are working on. Everything on your website should be up to date and nothing should be collecting dust on your website. It's okay to update it or give your website a makeover every now and then.