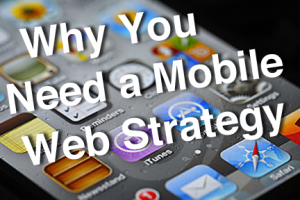 People are searching on mobile, and people are searching on desktop, but they are not searching the same way on both. The majority of the time when a person is on a mobile device is in the morning, on the go and at night. During normal work hours (9 to 5) is the only time when they are mostly on desktops. You are probably thinking that this is obvious and that it does not have anything to do with mobile web strategy, but the answer is it has everything to do with it!
Users are searching on their phones locally or to find more information on a product based on something they saw. It is a quick last minute search where they are looking for something specific and something close to them. This alters your approach to mobile web because you want to make your site is as user friendly as possible.
Whether it be through responsive web design or through a separate mobile website, there needs to be much consideration put into your mobile web strategy. You need to think about the picture size, the size and placement of your navigation, what you want to leave out from your original site, and give people several ways to contact you. With sixty-nine percent of people purchasing after making a mobile search, you can no longer afford to only have a desktop version of your website.
Mobile websites are just the tip of the iceberg. More and more companies are looking for ways to reach people on their mobile devices through apps, mobile ads, QR codes, mobile friendly emails, and text alerts because they know this market is quickly growing.