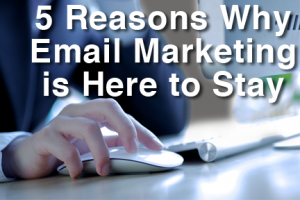 People often get worried when new things are introduced old forms of communication will fall by the wayside. This is a common misconception and is entirely false when it comes to email marketing. Email is the most preferred channel for Millennials, and 77 percent of consumers said they prefer to receive permission-based marketing communications via email. If that is not enough for you, here are the five reasons why email marketing is here to stay.
It's Trustworthy.
With the way the internet is today, people do not always trust everything they see or hear. Well, they can certainly trust things they read if it is coming directly from the brand. People will build a sense of trust with companies that they have a relationship with—it is as simple as that. You can use email marketing to build that trust with them and make sure they know for sure who and how they are getting emails from.
It's Direct.
An email goes straight from your computer to your customer's inbox. You can create groups and target certain people based on what you know about them. If you are a pet supply company and you know Suzie has two dogs, why on earth would you send her information about cat products? She will be annoyed and most likely unsubscribe or spam your emails. People want to feel like brands are listening to them and know them well so make sure you are paying attention to what your customer's interests are. This new level of personalization that makes a customer feel valued and important.
It's Timely. 
You can take planning to a whole new level! You can schedule emails around limited time offerings, current events, and industry or company news. It is a quick and easy way to keep your customers up to date and informed of what is going on.
It's Creative. 
Not only can you personalize your emails, you can be creative with them as well. Tags make it easy to personalize your emails as well as add features like social campaigns or auto populating RSS feeds. You can be much more creative with design elements, photos and gifs to make your message more effective than simply a black and white text email.
It's Measurable.  
Not only can you close monitor your open rate of each campaign, but you can also monitor what people are interested in. Which links did they click on, what part of the email were those links at, and how many times they opened your email. You can adjust your wording, time and content to better suit who you are sending your emails to.
For right now, email marketing is far from being dead. There are way too many advantages to email marketing to just ignore it or not use it because rumors say that no one uses it anymore. When was the last time you checked your inbox? Who did you have emails from? Are you signed up for Groupon? See, email marketing is still very much in effect today.