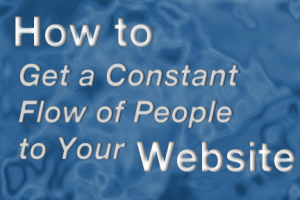 Your website should not  just be: I came, I saw, I conquered to your customers. They should have reasons to visit your site more than once. Keywords are what lead them to your site, but it is strong content that will keep visitors coming back for more. Think about what websites you visit frequently; chances are it is not because of slow loading pages, old content or poorly written material. It has to do with well written and engaging content that is being updated.
There are things you can implement in order to ensure a constant flow of people to your website.
Content. This is the most important thing to have a presence online. Google takes content in as a large factor in their algorithm for SEO. Make sure it is easy to read, view, listen to and comprehend. You want your content to educate your viewers, not confuse them even more.
Links. This is very simple, but often overlooked. Viewers get frustrated when several links do not working or there is no clear navigation. Make sure your links take you to the right page and they are easily accessible. Users will not want to return to your site if it is hard to navigate around.
Personal Connection. Under your 'About' section not only talk about the company, but mention your employees as well. Who works there? What do they look like? What is their title and experience with the company? It helps customers to put a name with a face and see who they are working with. If you have a company newsletter, add a sign up form on your website so customers can stay connected and up to date with what is going on within the business.
Appearance. The company website is the first and sometimes last impression. If potential customers are searching for your company online, you want to make a good first impression when they enter your site. Is the overall look of your site clean and inviting? Does it reflect the values and image of the company? These are some things you need to consider when rating the appearance of your site. When people have the choice between two sites with the same content, they will chose to visit the more visually appealing site every time.