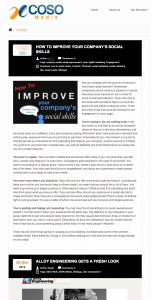 A content management system is a tool that helps generate websites and pages through a back end interface. This is an easy and effective way to publish and manage content for your website. A good content management system will help your company reach new levels online. Your website is a great online marketing tool, so use it wisely! Here are a few more reasons why a CMS is good for business.
1. You can control and customize everything! A good CMS will allow you to control the content on your website without knowing code. This is very crucial because it no longer limits how business owners are able to improve and  update their website to meet their audiences' needs.
2. It's time and cost efficient. The most amount of time you will spend on CMS is learning how to use it. From that point on you will be able to add and edit content, upload pictures and have control of your site.
3.  Plug-ins. Everyone loves CMS that allow you to display all the links to other social links. This will enable you to bring in Twitter feeds, blog and Facebook updates all in one place.
4.  Technology. We are always look for was to update and improve our CMS, which means you can update the look and feel of your site while your  competitors are stuck in a cookie cutter mold.