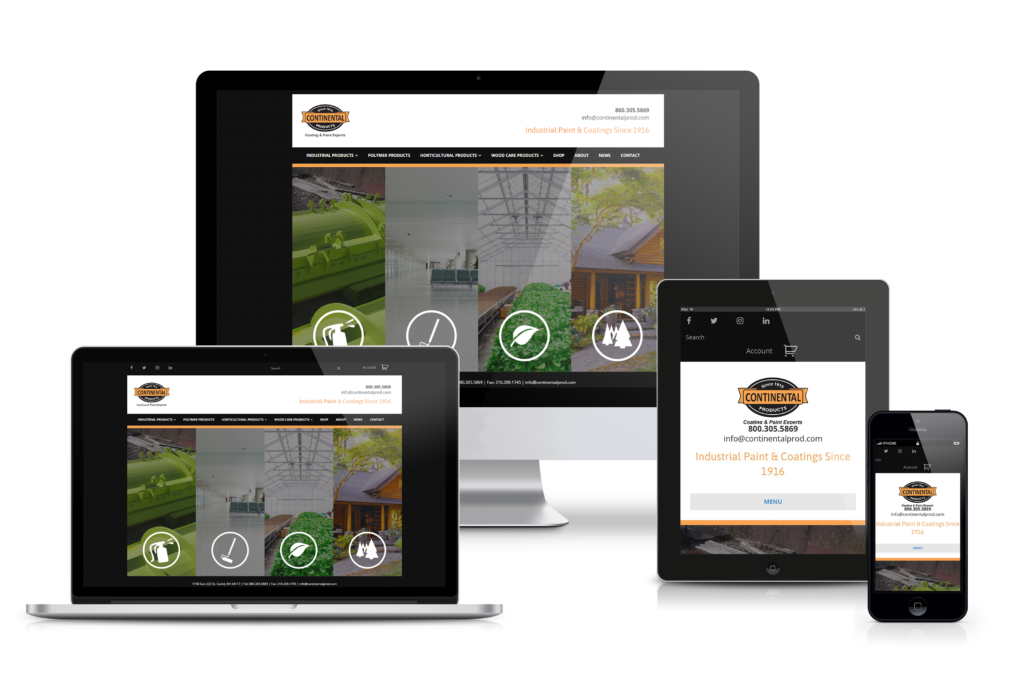 HUSDON, OHIO – JULY 20, 2018 – COSO Media, an Ohio based Internet Marketing agency specializing in Social Media Marketing, Website Development and Search Engine Marketing is pleased to announce the launch of Continental Products' new eCommerce website!
The Keene family of companies have been a long-time client of COSO Media. Continental Products is a paint and coatings manufacturing firm founded in Euclid, Ohio. They are one of the oldest suppliers today of log home maintenance products with heir award-winning log home products: WeatherSeal Premium Oil-Based Wood Stain and Sealant, and PolySeal Premium Water-Based Interior Wood Finish. Some of their newest products are available on the e-commerce portion of the website.
Continental Products now has a clean, easy to use, eCommerce website where customers can browse and purchase their products. COSO Media provided a design that complimented the other brands in the Keene family of companies with its own twist using the crisp brand colors.
The previous Continental Products website had very limited functionality and was not very usable on mobile devices. It is now mobile-friendly and responsive, has an added ecommerce store, and we redesigned the site to bring it into 2018.
"My favorite part of the Continental Products website is the module that our developer Josh created for customers to locate distributors," says Mark Best, Director of Creative Services at COSO Media. "Our innovative development team is always looking for new and creative ways to satisfy the needs of our clients with their website designs."
About Company
COSO Media is an innovative full-service marketing firm that specializes in Social Media Management, Web Development, Search Engine Optimization, Print and Digital Marketing, and Technology Solutions. They take the hassle and stress out of marketing by creating custom plans for each client designed around their brand identity and industry. Find out more information about the company by visiting: www.cosomedia.com.
Contact
Matthew DeWees, President of COSO Media
Matt@cosomedia.com | (866) 667-6060