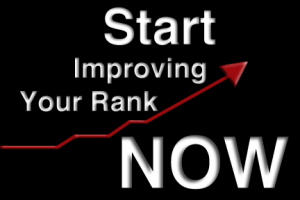 Do you wonder what you need to change or what you are doing wrong? It could be a lot of things, but here are three key things to pay attention to that will do wonders to your ranking in search results.
Use Keywords and Use them often. Keywords exist because they are the "keywords" of your company. Well, if they are truly words that are based off of what your company does, then your keywords should be in several places on your website. If one of your keywords is nowhere to be found on your site then changes are you shouldn't be using that word or you need to re-write content on your site.
Link, and link well.  Having links is a good thing, when done right. You should have links to your site coming in from several sources, but make sure they are good sources. External links from other sources are more important in terms of search engine optimization than internal links from yourself. Just like people trust what others say about you more than what you say about yourself, search engines do the same thing. You want people to know all about your company, and having several links coming into your site will only improve your rankings even more.
Provide useful information. Have you ever read a paragraph then asked yourself "what did they just say"? That's because so often people use a lot of words to say a whole lot of nothing. Make all of your information relevant and useful to your customers, leads and potential customers. You will be rewarded through search engines if people value your content and go to you for information.