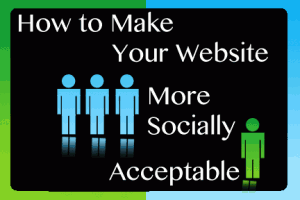 Is your website stuck sitting in the loser corner while everyone else is out dancing? It's okay, it happens to everyone at one point or another. The good news is that there are ways to fix it!
Nielson's U.S. Digital Consumer Report showed that 81 billion minutes were spent on blogs and social networks in 2011, as compared to the 6.5 billion minutes in 2005. This means that people clearly spend a lot of time on social sites, so why not use that to draw them back to your website?
Feature Popular Products and Fresh Content 
Highlight your featured products that your customers are most interested in. Focus on the features to pull the customer in to the shopping experience. You can catch people's attention through page banners, updating your home page frequently, and having a slider of products at the top of the page.
Feature Videos and Pictures
Having featured videos and pictures on your page will make it more interesting and visually appealing to your customers. With the increasing popularity of social media sites, people have become more drawn towards pictures rather than text. So by making your website video and picture dominant, people will want to look around your page more.
Socialize Your Content
This is not the place of your marketing plan to start slacking in! If something exciting is happening in your company, you have new products out, or you just want to reach out to your customer then socialize it! This means more than simply adding a "like" button to everything you post, your visitors will want to have more options available to share. Think about how other companies utilize social sites. If you can't think of anything else other than adding a "like" button, there are other buttons available depending on what social platform you are using. Be sure to make it easy for visitor to like and share your content by having several available options on different platforms. If you haven't made the step to having your site be more social, then now is the time!