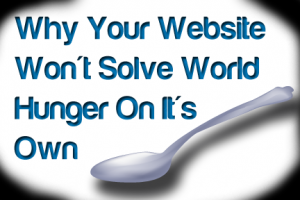 Now that I have your attention, listen close. When you have a website, it's not just a one and done type deal. You need to keep creating and updating content on your site in order to be successful. Your website can't just sit there and do all of the work; you need to. Your website is what your company uses to interact with leads and customers, but you decide how you interact. In order to solve world hunger, you need food first. Or in your case, in order to fulfill your customers needs, you need to have good content.
You need to keep your content fresh and give people a reason to keep coming back for more. Companies that have new fresh content on their websites give search spiders a reason to keep coming back, to increase overall brand exposure and enhance organic SEO. Redesigning or rewriting pages on your site every month to provide fresh content doesn't make any sense, but here are some things that do make sense to have.
Company Blog. This is one of the most effective ways to get people to keep coming back to your site. Blog articles can be posted as frequent as you would like, and it is a great way to establish and build customer relationships. It is also a fantastic way to keep people informed with company and industry information.
Free Downloads. If you have several white papers or fact sheets laying around, you might as well make use out of them. Digitalize them and create a resource center that your customers and leads can visit to learn more. If you don't feel comfortable giving just anyone this information create separate landing pages where people can fill out a form to download.
Videos. This goes above and beyond a blog or resource center. These can be a fun and interactive way to get people involved more with the brand. Keep in mind that search spiders can't watch videos, so be sure to write a description of the video as well.
Updated Portfolio. This should go without saying, but it is a great way to display what your company does while showing recent projects. This can be set up several different ways, but as long as all of the proper information is displayed the setup is not that important.
Make your site as user friendly as possible so people can find what they are looking for. Think heavily about what you look like in the eyes of the customer. What may look good and make sense to you may not be what the customer wants. Conduct research, test things, do whatever you need to do in order to make it a welcoming experience for your customers.