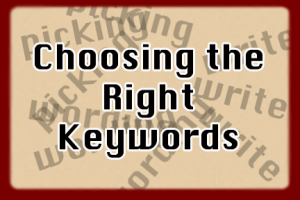 When creating any content or plan, you have to choose a specific focus. You can use this focus to your advantage and align it with your keywords. Picking the right keywords will have a lot to do with your success rate of your Search Engine Optimization campaign, so choose wisely. Here are some helpful tips to point you in the right direction.
 1. Think like a customer
After all, they are the ones that are searching for you. You want to think of what they are looking for rather than what you want them to look for. Think of the primary categories of your business and then the words or phrases that fall under them. Now think of the phrases that your customer would use to describe these services or products. This should give you a good starting point to work with.
2. Use a Key Phrase
Try to avoid general terms and be as specific as possible. Being specific will help will page ranking, ensuring that they are relevant to your site's content. If you were a coffee maker manufacturer, you wouldn't want to rank for just "coffee makers".  You would want to be more specific and add keywords like "single cup coffee makers" or "shatterproof coffee makers" to improve your chances of going up in page rankings.
3. Watch your Competition 
It is always a good idea to know what your competition is doing. Not only do you need to pay attention to your direct competitors, but your online competitors as well. With the beauty of the internet in this day and age, people can buy from all over. This means you may not be the big fish in a small pond like you thought, so you should pay attention to who else is out there and what words they are ranking for.
4. Narrow down your words
Your SEO campaign will be much more successful if you have a narrow list of keywords rather than a large one. You can not be everything to everyone, you should focus on what you do best. Your keyword list should be a short summary of the products or services you offer, so if you don't offer it you shouldn't rank for it. Your primary focus should be on your niche and then extend from there.
5. Form follows function 
After narrowing down your keyword list, your content strategy should  revolve around them. Your keywords should reflect your business and what customers are looking for, so your content should do the same. Your keyword list is always a good place to start when creating new content because you don't want to get away from your keyword list.