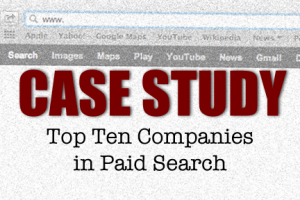 It is a good practice to get into learning from other companies' success, rather than sitting in a corner being jealous of them. Internet Retailer Magazine recently published their Top 250 Companies Ranking for Paid Search, however we are going to narrow in and focus on the Top Ten. Take note on the things they are doing right instead of being green with envy. Who knows; your company may make the list next year if you learn what is working for them.
So what sets these companies apart from your own? What is that "X" factor that makes them special? The number one spot was an online retailer, with strong brand presence across all social media sites. They feature their products, tweet special deals, post helpful tips, and fun pictures. Surprisingly enough, their success isn't particularly due to their monthly pay per click spending because it decreased 5.7% since last year. They may have found that the secret is in time spent online, however, in today's economy time is money. It is very clear that they put a lot of time and effort into their online marketing, which is split between in-house marketing as well as an outside agency.
The other top nine companies are doing things very similar, but are competing in different industries. The main difference between them and the number one company is they also have a retail store, as opposed to being entirely online. Below are the averages from the top ten companies in paid search.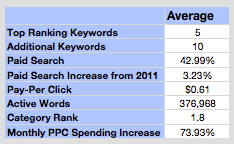 These are what is working for them and in their industry. Several things vary per company, but a few interesting facts are:
3 decreased monthly pay-per click spending
4 increased their spending more than 100%
the highest any of the companies jumped was 5% in paid search
3 companies were in the category of "appliance"
50% of the companies use an outside source for their marketing
Ultimately the "X" factor lies within your company and what works for your industry. Keep in mind that money can't buy you love; spending more in pay-per click won't always drive your success. A strong brand presence online and among social media sites is a must in order to stay competitive.