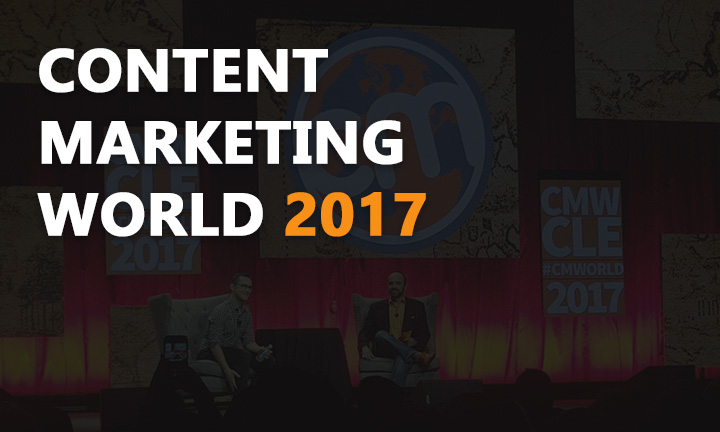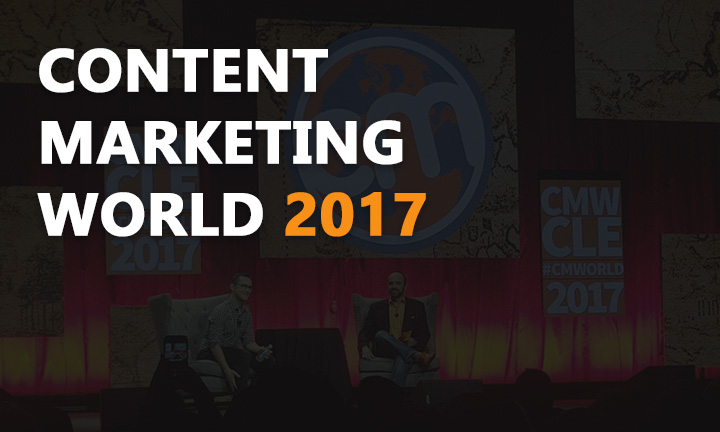 For two full days, our marketing team joined over 4,000 marketers to attend Content Marketing World Conference and Expo in Cleveland, Ohio. We engaged in several workshops and presentations while networking with brand marketers from all over the world! The content marketing topics ranged from strategy, to integration, to measurement, and more. The goal of the event was to inspire creative and innovative content and collaborate with like-minded experts in the marketing industry.
The keynote speakers we had the opportunity to hear speak were:
Linda Boff

– Chief Marketing Officer at General Electric
Joseph Gordon-Levitt – Award-Winning Actor, Producer, and Creator

Casey Neistat

– American Film Director, Producer, and Creator

Colson Whitehead

– Pulitzer Prize Winner & Bestselling Author

Joe Pulizzi

– Founder of Content Marketing Institute

Margaret Magnarelli

– Managing Editor, Content/Senior Director of Monster

Jay Acunzo

– Creator & Host of Unthinkable

Alicianne Rand

– Executive Director of Estee Lauder Companies

Laura Cameron

– VP of Digital Marketing at KeyBank
Listening to the keynote speakers along with the smaller breakout sessions, we noticed a few common trends, below, that occurred throughout the event.
Audience building and understanding your personas are more important than the content. Building and getting to know your target audience is hands-down the most critical step in marketing your content. Ask questions and listen to your buyer's story. Truly understand what problem you are solving with your product or service. Oftentimes, companies assume personas and the motives of their audience, but it's time to know the truth and ask your customers what is important to them.
Ask, what drives you to make the decisions? What results were you expecting? If they did not choose you, ask why not. What were the barriers? This tends to differ from the company's perceived barriers. Understanding how your customer's decisions are made is key.
Don't forget to target those who influence your customers. You are missing out on a crucial audience if you don't also focus on marketing to those who influence your target individual's buying decisions.
Build content that is relevant to your audience. This one may seem obvious but what steps are you taking to ensure that your audience finds this content both interesting and useful? Does your content drive action? Can users engage with it? Buyers crave engagement and need content that brings memorable value to them. What are you providing that makes individuals want to stick around and become loyal to your brand?
Your content needs to reach your users at the right point of the buyer's journey. Drip campaigns and automation are no longer enough. We need to continually evaluate which content touch points make the most sense to influence your users and at what stage in their journey, while using the most effective channels.
Avoid jumping on a lead too soon. Users who are pushed to buy at the wrong stage can make you lose the sale altogether. Know what stage your buyer is in and what content will best influence that specific individual at that specific stage.
Measuring content effectively. Are you measuring the right key performance indicators (KPI) for each goal? There is an endless amount of data we can collect on users. Make sure you are focusing on the right metrics for the right goals.

Fast Tips
Content is king but distribution is queen.
A sale is the sum of all engagements your customer experienced.
Marketing departments need to constantly collaborate with the sales and customer service team.
Peer-to-peer recommendations are more important than an influencer marketing.
Competitive content audits are critical to creating regularly.
Document your content playbook – what does content success look like?
A/B test all content.
Ignite the passions of the people who know you best.
Solve real problems and create processes that are helpful.
Include a clear call-to-action in every piece of content.
Clear the clutter in your content – what must be there and what doesn't?
Consider the life of your campaign long after it's complete.
Create an emotional attachment through tactile experience.
Overall, this was a great experience to collaborate with exceptional marketers in over fifty different countries. We would highly recommend attending this event in 2018!