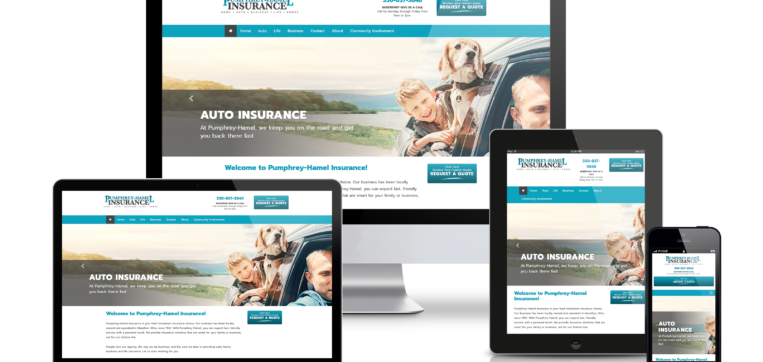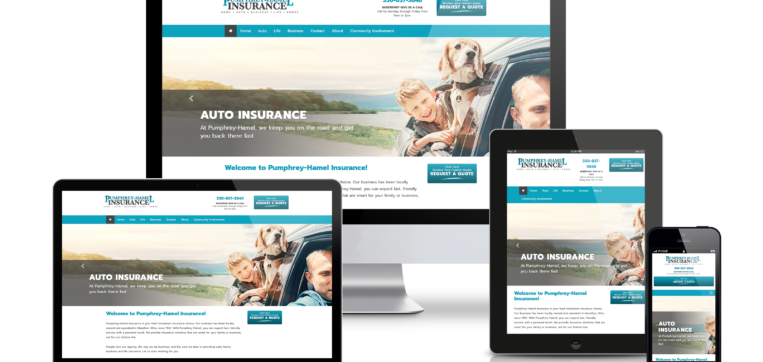 HUDSON, OHIO — July 27, 2017— COSO Media, an Ohio based Internet Marketing agency specializing in Social Media and Digital Marketing, Website Development, and Search Engine Optimization has launched a new website for Pumphrey-Hamel Insurance. Pumphrey-Hamel Insurance has been locally owned and operated in Massillon, Ohio since 1967. They provide insurance solutions for your family or business.
The new website has been developed to provide the ultimate user-friendly experience for those seeking insurance quotes. The design of the website has a modern, clean feel that is focused on the importance of family and everyday life. The four main blocks: Home, Auto, Business, and Life allows users to quickly find what they are looking for, while the prominent, "Request a Quote" button makes it easy to get started. This new website is also now responsive across all platforms.
"Pumphrey-Hamel Insurance has been providing insurance for over fifty years to local Ohio residents, so it was exciting to have the opportunity to provide them with a new, modern site that doesn't take away from their history or their involvement in local community," says Mark Best, the front-end developer at COSO Media.
About Company
COSO Media is an innovative full-service marketing firm that specializes in Social Media Management, Web Development, Search Engine Optimization, Print and Digital Marketing, and Technology Solutions. They take the hassle and stress out of marketing by creating custom plans for each client designed around their brand identity and industry. Find out more information about the company by visiting: www.cosomedia.com.
Contact
Matthew DeWees, President of COSO Media
Matt@cosomedia.com | (330) 653-8144 Ext: 101