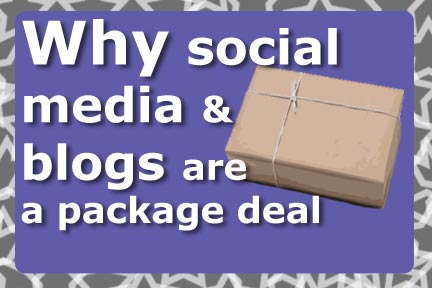 Like any good marketing strategy; there is more than one part to it. Blogging is a very useful tool if you know how to use it properly. It is a great way to highlight your social media, as well as increase your search engine optimization. Let us help you understand why they all link together.
When you write a blog post, it automatically gets fed into the search engines, but why? Writing a blog creates a new link on your website, which will then be posted and get crawled and plugged into search engines. The more frequently you post blogs, the more your company will get put into search engines. Placing tags onto your blog also helps when people are in the search engine, that way your blog will appear in search engines for relevant topics.
Now onto the subject of social media, it gives you ways to increase traffic to your blog other than through search engines. Sales and marketing are based off of the relationships built with your customers, and what better way to do this than through social media. You can send your friends and fans links to your blog for a more in-depth and focused conversation if they want to learn more. This multi-tiered strategy will help your company build a strong connection between your blog, website and social platforms as well as with your customers.
Take a proactive approach and marry your blog and social media sites now before they start seeing other people. Actually, you want them to see more people, but they work best as a united front than independently. Don't go link crazy, but be sure to make links from your social media sites back to your blog to really draw people in. The more engaged a person is with your blog, the more engaged they will be with your social media sites which in the end leads to them becoming more engaged with your company as a whole.