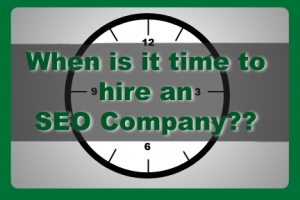 Being a decision maker in business means knowing when to do in house and when to admit you need help from an expert. Every company should optimize their site in order to increase their search rankings, but sometimes you can only get so far by yourself. While SEO is something you can certainly do in house, it usually makes more sense to hire someone that has experience in SEO. The main question you have to ask yourself is: is it worth it?
Well, that depends. There are pros and cons to hiring the outside help of an SEO company as opposed to doing it yourself.
DIY SEO
Advantages: You will save more money and learn a lot about running a website. You will maintain total control of your website since you are the one doing everything.
Disadvantages: You are doing everything. This takes up a lot of your time, specially if you haven't figured out the proper way to optimize your site. SEO isn't just a one and done type thing, it is an ongoing process that needs maintained. If you aren't knowledgeable about SEO guidelines and practices, it is tempting to fall into the trap of spamming. If that happens, then you risk the chance of search engines permanently banning your site.
Hiring Outside Help
Advantages: You can focus on expanding your business while the SEO company focuses on your rankings. You can work side by side with your SEO company to help you achieve certain rankings for different keywords.
Disadvantages: It will cost you money to hire an SEO company. You will also need to describe what your company does, and goals that you wish to have in the SEO process.
If it is done by yourself or an SEO company, SEO is definitely something worth investing in. SEO done right can be one of the most effective ways you can promote your business to gain more leads.