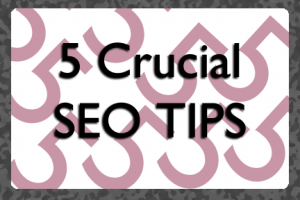 Are you part of the search engine optimization race to the top? If you aren't, then you should be! If done correctly, SEO will help attract more people interested in your company find you. Your level of SEO knowledge will limit your rank as a page, but these five key things will help give you a leg up on your competition.
1. Don't Ignore SEO Recommendations
Whoever oversees your SEO should always know how your company is ranking. Which would mean they learn what works and what doesn't work. If they suggest that the site go through some changes, then listen to them. Their ultimate goal is to get your company ranking higher, which means changing the site every now and then.
2. Solve CMS Issues 
Not all content management systems are SEO friendly, so beware! Be sure that your CMS system is evaluated by the person in charge of your SEO to avoid problems with: session ID's, URL structures that cause duplicate content, JavaScript or Flash drop down menus that can't be fixed, Lack of support on custom page titles, and lack of support for tags.
3. Do Your Keyword Research 
Not exactly keyword research, but user research about how people are reacting to the language you use on your site. Don't use words that you want to rank for without looking at what your customers are searching for. If you want to rank for "auto repair shop" thats  fine, but it won't help if your customers keep searching for "car repair". You want to find the right balance between making your keywords too broad or too narrow.
4. Have a Strong Content Strategy 
This is something rather hard to commit to, but if you want to be the best you need to publish the best. Basically, the keywords that you are trying to rank for better have a lot of consistent and strong content behind it.
5. Integrate Social Media with SEO 
Anywhere from social mentions to link building, you better make your social media and SEO an airtight seal. Social media plays a huge role in SEO now, and it also helps you rank more than one URL. Your keywords should be used across all social platforms to help rank your company as a whole in as many places as possible. The ideal ranking would be to have your company website,blog, Facebook, LinkedIn, and Twitter pages rank high together.